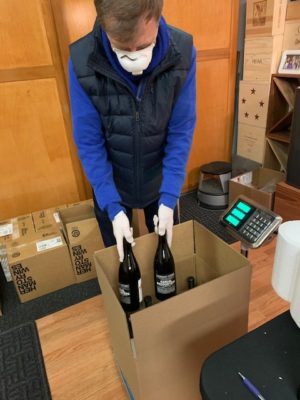 Golden Gate Wine Cellars can ship your wine worldwide to destinations where purchases and delivery of alcohol is permitted by law. Sales shipped to destinations within the United States can be completed on our website. For shipments to be sent internationally, please call us at 415-337-4083 (landline NO TEXT) to complete your purchase.
We also offer free storage of your paid wine purchases in our temperature controlled warehouse. Order your limited availability wine now and have it shipped to you when you are ready!
There are also times, in the case of extremely hot or cold weather, when it can be damaging to ship the wine. In these circumstances, we will gladly hold your wine for you until it is safe to ship.
If you would like to take advantage of any of these services, please call us at 415-337-4083 or email frank@ggwc.com
Please see our full shipping, storage, returns, and refunds policy below for more information.
Shipping, Storage, Returns, and Refund Policy
Domestic Shipping
We ONLY ship on Monday & Tuesday. Please allow a minimum of 24-48 hour turnaround time for confirmation and shipment on all orders. We prefer to ship to a business address so that the wine can be signed for and accepted on the first delivery attempt. Sometimes we experience extreme hot or cold weather, during this time we will gladly hold your order and ship when weather conditions are met. If you require long term storage, please contact us at 415-337-4083 (landline NO TEXT)
At current time we are ONLY shipping Monday & Tuesday.
We ship to many places however all wines are sold in California and ownership passes to the buyer in California.
Disclaimer
Golden Gate Wine Cellars™ makes no representation as to your right to import wine into any state beyond California. The buyer is solely responsible for the shipment of wines. By ordering, you authorize Golden Gate Wine Cellars™ to act on your behalf and to engage a common carrier to deliver your order to the address where you would like it delivered.
Only persons 21 years of age or older are able to order and accept delivery of wine. By placing an order, you represent that you are at least 21 years of age, and that the person accepting delivery is at least 21 years of age.
Online Orders
When ordering on line, be certain to enter the CORRECT BILLING and SHIPPING addresses at the right place in the checkout process. Entering the wrong information at the billing point results in higher credit card fees for us and higher prices for you. By placing your online order, you represent that you are 21 years of age. All shipments of alcoholic beverages within the United States require an adult's signature at the time of delivery (because of this a business address is always best)
Ship-to-States
Virginia customers will be assessed an excise tax of 6-6.3%.
California customers will be assessed the appropriate sales tax for their local jurisdiction.
All other states are sales tax exempt
We will only ship domestically to Alaska, California, Idaho, Louisiana, Nevada,New Mexico, North Dakota, Oregon, Puerto Rico, Virginia, West Virginia, Wyoming
International Shipping
Golden Gate Wine Cellars™ ships a great deal of wine to Japan via Yamato Transport. If you wish to arrange to ship to Japan, we suggest that you select your wines by viewing our wine shop, and then send us an email finalizing your order. We will reply with an acknowledgment of the shipping date and rates. Duties and taxes will be calculated and collected in Japan.
For ALL OTHER International Shipping, please call 415-337-4083 or email us frank@ggwc.com When ordering, be sure to include full name and address, postal code, telephone number, email address, credit card number, expiration date, and CVV (for Visa and Master Card the last three digits on the back of the card, AMEX the four digits on the front). If you wish to ship internationally to another country, it is possible but you will need to contact us by phone 415-337-4083 or email frank@ggwc.com to arrange for a customized shipping quote.
Temperature Controlled Storage and Shipping
Nothing will ruin a case of wine faster than summer heat or a winter freeze. It is not uncommon for the temperatures in an enclosed truck to exceed 120 degrees Fahrenheit. During the hot summers or cold winter months, there are certain areas with extreme temperatures where it is still not safe to ship your wine. In this case, we will gladly store your PAID wines in our temperature-controlled warehouse at no additional charge until it is safe to ship. Just let us know at the time you order.
FREE SHIPPING disclaimer.
Free UPS GROUND is for shipments within the continental 48 US States (excludes Alaska and Hawaii) on orders of $750 or more ~ use code "750shipfree" during checkout. All wines must ship to the SAME address. Offer is NOT VALID FOR on our "SALE WINES" " . You MUST use the discount code to receive the free shipping offer. Additional exclusions may apply.
Returns and Refunds

We guarantee that you will be delighted with any wine that you purchase from us. If this is ever not the case, please bring it to our attention and we will make the situation right. The buyer is responsible for all shipping and insurance charges to and from the destination, as well as a 15 % restocking fee.
Refunds, less the shipping (both ways) plus a 15% restocking fee, will be processed and mailed (via US BANK CHECK) within 24-48 hours of the item's canceled orders and/or accepted return.
The restocking fee (not the shipping fee) may be waived if the merchandise is exchanged or replaced with a product of equal or higher value. We will only accept return or exchange wines purchased less than 7 days from the invoice date.
A 15% restocking fee will be charged on ALL canceled orders, even if they were processed the same day as we incur credit card fees for the initial charge and the subsequent credit.
Additional restrictions and terms apply. Please see our Website Terms and Conditions page for more information.